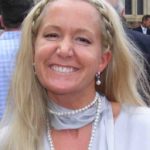 Joely is chiefly a visual artist working in various media from paint to textiles and collage. Her ongoing series 'The Eternal Landscape' consists of canvases that morph across the landscape, transcending seasons and times of the day. Alongside painting she writes poetry, and one feeds the other.
More recently words emerge, surreptitiously camouflaged beneath the crest of a wave, as the land becomes sea. This series is a therapeutic, meditative practice that has parallels with life experiences. Occasionally the poems and paintings appear to be developing in intuitive response to things of which she is not immediately consciously aware.
Over the past two years, Joely has developed textile designs from her Eternal Landscape series and created a range of silk scarves, ties and bow ties. She has also created bespoke designs personalised with handwriting, and created promotional silk scarves for a breast cancer clinical trials charity.
Her community arts background has always been an inspiration, and that is why embracing the diversity of artistic approaches is innate in her work and what allowed her to exist within the constraints of formal art education. Joely has always been passionate about art, and bursting with enthusiasm when developing and empowering ideas. To Joely creativity is as necessary as the need to breathe.